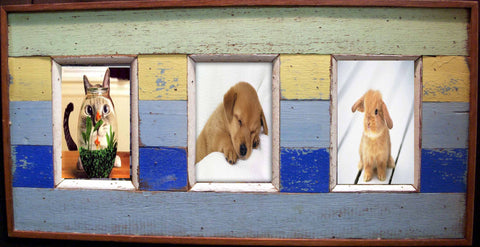 SN 130 // Multicolor 3 picture Frame 4 x 6
 MULTI-COLORED DOUBLE PICTURE FRAME (pic: 4x6)(out: 12x22.5)
This stylish picture frame will beautifully hang on a wall. This charming frame is made with recycled salvage wood in a shabby chic motif.
Product Features:
Recycled wood
Multi-Colored
Can hang on a wall vertical or horizontal
Holds three (3) 4 x 6 inch pictures
Measures 22.5 inches high x 12 inches wide
Handmade from recycled salvaged wood materials, each item may differ from the next due to slight variations in color-gradients, distress marks and size, though the functional design and structure of each item however remains the same despite these minor cosmetic differences.
---
We Also Recommend